Okay so, with my course, Fashion Journalism. Im going to need to know everything there is to know about Fashion designers past and present. I am informed that we will be having a Fashion History test near christmas time.
So, as i am absolutely terrible at revising, i am going to go through a different designer with you everyday until i know them like the back of my hand. Then i can actually participate in my lectures and the tutors wont look at me like i'm a big doof! I know they probably don't anyway but i'm rather self-concious of it!
Today i will be starting with Jeanne Panquin...
Jeane Panquin was a french designer between the years 1869 - 1936. Trained as a dressmaker and known for her innovative designs she was the first woman to open her own fashion house building her label into a international name opening stores in London, New York, Madrid and Buenos Aires! I think Panquin really started things off for the fashion industry setting up fashion parades, known now as fashion shows, to show off her latest designs and models. She also set up a sportswear department in her London store for golf, motoring and shooting clothing.
Here is one of her stunning pastel blue tailored dresses. I love the way she really captures the essence of the female shape with the synched in waistline. Also a lot of her designs having that extra hidden pleat for practicality.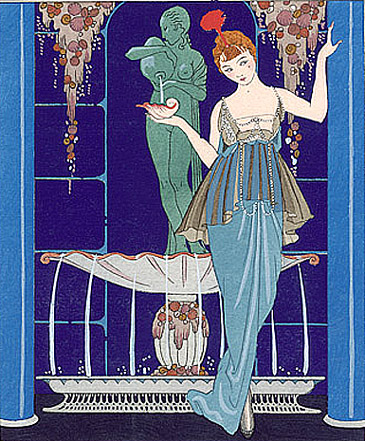 Also this Full length pencil skirt is beautiful. This design was very new and creative in the early 1900's and is still, now, coming back into fashion regularly. Especially now and also in the 80's with the extra frill skirt at the top - please note i am terrible with the terminology of all of these different types of cut's so please if anyone knows the correct please comment...
This is one of Panquins day-into-evening dresses. It uses both tailoring and drapery using taffeta silk. Formal enough for daytime and soft enough for an informal evening occasion. This is yet again a stunning timeless design taking into account the female form and essentuating it beautifully.